What is DigiLearn?
DigiLearn is a practical, interactive, online event designed to empower schools and colleges to transform teaching and learning. Hosted by Irish digital learning specialists, Wriggle Learning, in association with Microsoft, DigiLearn will provide a space to share best practice, tools and experience with guidance from Ireland's top educators and thought leaders. With live and on demand workshops focusing on positively impacting the student learning experience, reducing staff workload, successful digital planning in schools and colleges and more….take a look at our event agenda and reserve your
FREE
place today!
Bookings for all DigiLearn Live workshops are now closed!

Register below to get the link to watch back all of the DigiLearn workshops:
See the full list of
DigiLearn Live Workshops
Tuesday 9th February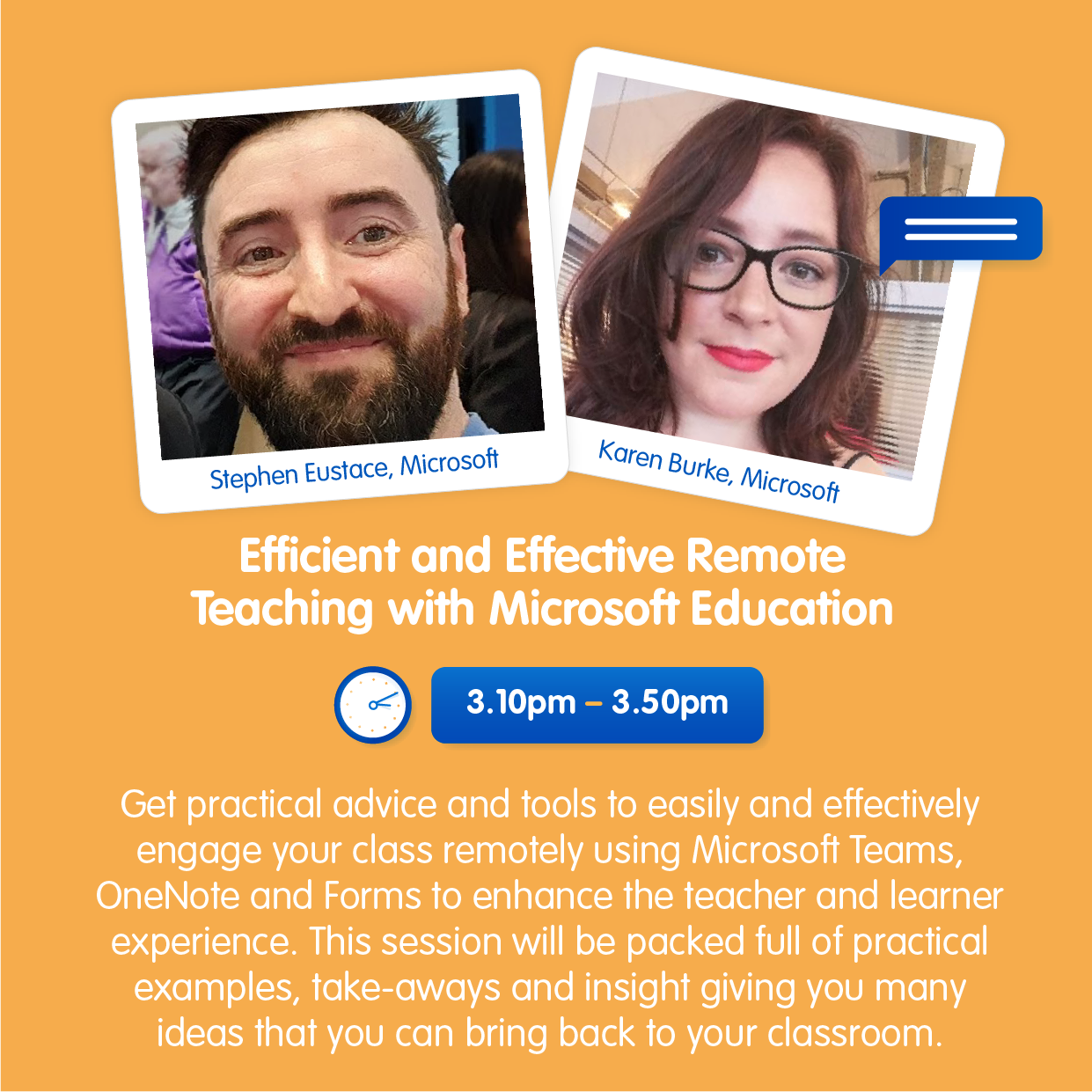 Wednesday 10th February
Thursday 11th February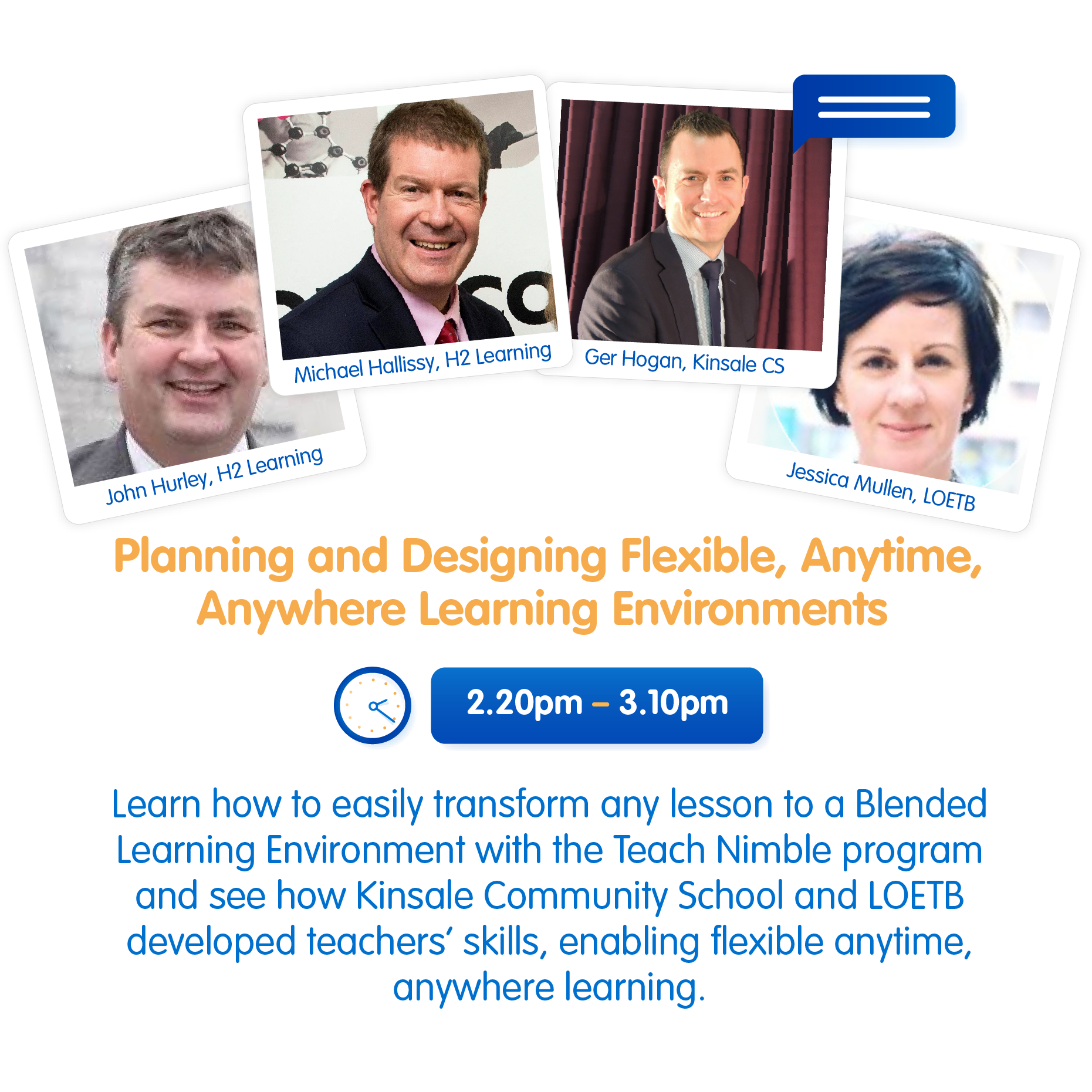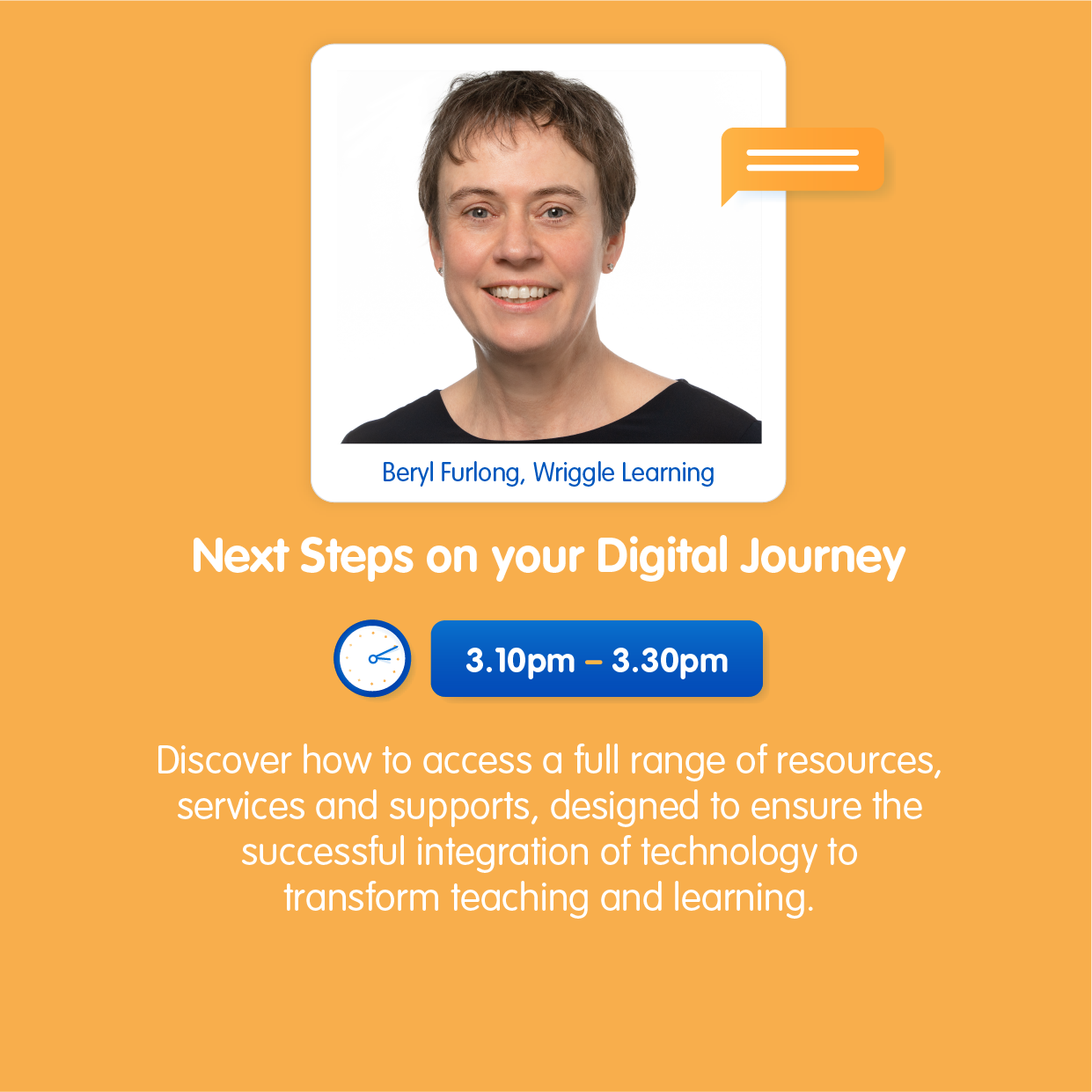 Further practical workshops are also available on demand at the event covering:
Social and Emotional Learning
Practical Digital Safety Exemplars
Féidearthachtaí MS Teams sa seomra ranga agus le linn cianfhoghlaim
Stráitéisí le hAghaidh Obair a Dháileadh agus a Cheartú ar OneNote
STEM with the Dreamspace team!
To access these and all DigiLearn workshops to watch back on demand, simply register
below:
Dr. Kevin Marshall
Head of Education, Microsoft Ireland
Kevin Marshall is the Head of Education, Microsoft Ireland, where he leads a team of dedicated professionals committed to enhance the quality of Teaching & Learning using technology. He has represented IBEC on several committees, Teaching Council, National Council Curriculum and Assessment (NCCA) & Marino Institute of Education. He has a BA (Hons) Psychology, University College Dublin, an MSc Occupational Psychology, University of Hull and a Ph.D., Educational Measurement & Research, Boston College.
Mark Sparvell
Director of Marketing Education, Microsoft
Mark is a global award winning educator and leader with over 25 years experience driving improvement and whole-school transformation. Mark holds a Bachelor of Education and Masters of Leadership & Management , is a writer for Forbes, fellow of the Salzburg Global Seminar and member of the BETT Global Education Council. Mark has a deep interest in social-emotional learning and founded a successful SELinEdu online community of 10K. He is an advisor for Goldie Hawns MindUP and an ambassador for the Emotional Intelligence Society of Australia. Mark leads thought leaders evidence and research for Microsoft Education and is a frequent presenter globally. Follow Mark on Twitter @sparvell
Dr Miriam Nugent
PDST STEM Advisor & Deputy Principal, Inver College
Dr Miriam Nugent Is currently the Deputy Principal in Inver College, Carrickmacross, Co. Monaghan. She is a certified Microsoft Innovative Educator Expert and MIE Trainer and is passionate about using IT in the classroom and has worked with a dynamic team to bring technology training to teachers within CMETB. She has a strong interest in technology enhanced learning and has worked as a consultant on various projects including the establishment of a STEAM room in Monaghan Education Centre.
Sarah Molloy
Principal, Galway Educate Together Secondary School
As Principal to Galway ETSS in 2019, Sarah is passionate about leading a learner centred school where students are encouraged to be independent, resilient, responsible and creative. Her interest in technology focuses on how it can enhance learning rather than on the technology itself and this has become an integral part of the vision for GETSS where learning to learn is quickly becoming embedded in the culture of this new school.
Louise Judge
Deputy Principal, Galway Educate Together Secondary School
Louise worked as Acting Principal in St. Kevin's College in Crumlin, Dublin before joining the original start up team in Galway Educate Together Secondary School as Deputy Principal. Prior to this she taught and held leadership roles in a large school in the U.K. Louise believes technology and the use of 1:1 devices should be best used to enhance teaching and learning by magnifying the development of an innovative learning culture within school, that is team-based, technology mediated, cross curricular and project-focused.
Jane McGarrigle
Jane joined Webwise in 2015 and has held the post of Project Officer since 2017. Jane is responsible for the development, coordination and delivery of the Webwise Programme; the online safety initiative of the Department of Education. Jane is a member of the National Advisory Council for Online Safety and is also a member of the Media Literacy Ireland network dedicated to the promotion of media literacy. Jane holds an Msc in Advertising and a Certificate in Cybersychology.
Tracy Hogan
Education Officer, Webwise
Tracy Hogan has worked with Webwise, the Irish Internet Safety Awareness Centre, since October 2017. She holds the post of Education Officer which involves the development of educational resources aimed at parents and teachers (both primary and post-primary) while also coordinating the Webwise youth initiatives; the Webwise Youth Advisory Panel and Safer Internet Day Ambassador Programme. Prior to joining Webwise she worked as a teacher in both Ireland and New Zealand, where she gained valuable experience engaging in eLearning professional development working groups, resource development along with ICT policy development and implementation.
Jeremy Wrenn
Technology Enhanced Learning Officer, Kerry ETB
Jeremy works as Technology Enhanced Learning Officer in Kerry ETB with Community National Schools, Post-Primary Schools and FET programmes. Having worked in education for 20 years, as a Post-Primary teacher and Guidance Counsellor, he has worked for the last 5 years with Post Primary Schools integrating technology within classrooms and school systems.
Liz Moynihan
Director, Kinsale College
Liz Moynihan has been Director of Kinsale College of Further Education since 2013. In recent years, se led the rollout of an award-winning digital strategy at the college to enhance learning and break down further barriers to education. Having the up-to-the-minute digital structure up and running before the pandemic has given the staff and students at Kinsale College and enormous advantage over other institutions.

Holly Murray
Post Primary Teacher, Donegal ETB
Holly Murray is a Geography and History teacher at Finn Valley College in Co. Donegal with experience teaching in the FET and post-primary sectors of education. She is a certified Apple Teacher, a Wriggle Connect Ambassador and a certified Microsoft Innovative Educator Expert. Holly is passionate about technology enhanced learning to assist with inclusion and accessibility in her lessons. She has taught in the Dyslexia Association of Ireland Workshops in her hometown for the past five years assisting students with severe literacy difficulties. Her passion for SEN last year led her to designing her own SEN course for primary teachers with the use of Microsoft tools for H2 learning. She has recently just completed her Universal Design for Learning facilitators badge.
Carrie Archer
Professional Development Coordinator, CDETB
Carrie's interests are Professional Learning and Development, Communities of Practice, Universal Design for Learning and supporting equity, inclusion, diversity and social justice within the FET sector. She is a Mentor in TEL and works closely with a network of other TEL mentors in FET colleges/centres to support them in embedding inclusive practices into teaching and learning for the benefit and empowerment of all learners.
David Pollard
Co-Founder, Sapien Innovation
David is the co-founder of Sapien Innovation.
David lectures and facilitates Innovation, Entrepreneurship and Design Thinking workshops for undergrad and postgrad students at Tangent, Trinity College Dublin, and UCD Innovation Academy. He lectures at the National College of Ireland in Technology Enhanced Learning. He is also the Innovation Projects Manager at the Rehab Group, supporting over 10,000 people with disabilities in education and care services.
Ashley Stephens
FET Professional Development and Research Projects Coordinator, KWETB
Ashley has worked for Kildare and Wicklow ETB for 13 years. She is passionate about reimagining teaching and learning by integrating digital technologies and the principles of UDL to maximise learning opportunities for ALL students. She is also an Associate Faculty Lecturer in Technology Enhanced Learning with National College of Ireland and an External Authenticator. Follow Ashley on Twitter @AshEd_PD.
Veronica Walsh
Deputy Principal, Coláiste Treasa
Veronica Walsh, Deputy Principal in Coláiste Treasa, Kanturk, Co Cork. She led the deployment of iPads into Coláiste Treasa in 2012 and the continued professional development of staff since. She has a keen interest in innovative teaching and learning strategies that incorporate IT in Education.
Tara Robinson
Professional Development Coordinator, LCETB
Tara has been the Professional Development Co-ordinator in the Further Education and Training Division of Limerick and Clare ETB for the last five years. She has a background in Social Research and Youth and Community Work and has worked in adult and further education for the last 20 years. Tara works closely with FET colleagues to provide staff across the organisation with professional learning opportunities to support them in their roles.
Brendan Ryan
Learning Technology Development Officer, LCETB
Brendan Ryan is the Learning Technology Development Officer with Limerick and Clare ETB Further Education and Training (FET) Division. He has worked in Adult and Further Education for close to thirty years and has extensive experience working with community based groups on e-Inclusion/digital inclusion initiatives. Brendan has an MA in 'ICT in Education' and has lectured in Learning Technology in the University of Limerick and Mary Immaculate College. He is currently conducting research as part of a PhD study on 'approaches to FET Teacher Learning Technology professional development which promote critical reflection'.
Caitríona Cullen
FET Programme Coordinator, West Wicklow Youthreach - KWETB
Caitríona has worked as a FET Programme Coordinator in West Wicklow Youthreach for the past 7 years. She has interests in the areas of Educational Leadership and Management, Quality Assurance, UDL and Lifelong Learning. Caitríona previously worked as a key member of the Trim Youthreach Management Team who was awarded Europe's first second level 'Quality Centre of Education' & 'Effective Practice in Education' certificate by the Children's Acts Advisory Board. She has additional qualifications in the areas of Reality Therapy/Choice Theory Certification (WGII) and LIFT Facilitation. Caitríona is currently working towards Project Management (CAPM) certification with PMI.
Rachel Doherty
Deputy Coordinator and STEM Tutor, West Wicklow Youthreach - KWETB
Rachael has worked for 5 Years as a FET Educator in Youthreach and has a background in Biological Science. She is passionate about Assessment, Quality Assurance and Technology Innovations for Education. Rachael recently achieved a UDL Facilitator Badge (AHEAD) and is currently undertaking a masters in Educational Practice in NCI.
Emma Doyle
Design and Desktop Publishing Tutor, West Wicklow Youthreach - KWETB
Emma has worked as a FET Educator in Youthreach for the past 4 years, and is also a proud past student of West Wicklow Youtheach, Blessington Co. Wicklow. Emma has a background in art and design and is interested in promoting accessibility in teaching and learning through UDL, resource design and development, and fostering creativity and autonomy through technology. She is a Certified Adobe Associate (Graphic Design & Illustration), has a Digital Badge in UDL (Ahead), and is currently, working towards KWETB's DigCap Associates Digital Badge.
John Hurley
John is a founding partner of H2 Learning since 2002. He is currently working with the Department of Education on a number of digital learning and STEM Education strategic projects.
John previously spent four years as National Co-ordinator for ScoilNet where he pioneered the provision of Internet for Irish schools and the development of ScoilNet as the official portal for Irish education in partnership with Intel Ireland. John has considerable teacher professional development experience and is a member of the TeachNet Ireland management team designing and delivering cutting edge training for practising teachers on the use of ICT in Irish schools.
Davina Fogarty
Post Primary Teacher, Borrisokane Community College
Davina is a teacher of Mathematics, Gaeilge, Digital Skills and Junior Cycle Coding. Davina is an advocate for the use of 1:1 devices to harness and enhance student creativity. She is an innovative teacher and places particular emphasis on the integration of digital technologies and 21st Century teaching and learning methodologies in her classroom.
Michael Hallissy
Michael Hallissy is a former primary teacher and national ICT advisor who has worked in the field of digital education for over 25 years. He is currently working with a range of educators on designing and implementing engaging online and blended learning experiences. Michael and colleagues have developed the TeachNimble Programme to help educators plan a range of engaging learning activities for students, utilising a range of digital technologies and approaches.
Jessica Mullen
Professional Development Coordinator, LOETB
Jessica is the Professional Development Coordinator at LOETB and through her work is dedicated to making the best use of technology to ensure learners engage with teaching to reach their full potential. Embedding UDL practices, using technology is one of her key interest areas.
Ger Hogan
Deputy Principal, Kinsale Community School
Ger developed his passion for using digital technology through his teaching of PE and Chemistry at Kinsale Community School. Since becoming Deputy Principal in 2017, he has spearheaded and nurtured the evolution of an innovative culture of collaborative practice in respect of the integration of digital technology. Showcase School status was bestowed upon Kinsale Community School by Microsoft in November 2019.
Brian Doran
Principal, St Kevin's Community College
Brian Doran, Principal, St. Kevin's Community College, Dunlavin, Co. Wicklow.
Brian Led the introduction of a 1:1 device programme in the college in 2013 using windows devices and SharePoint sites for teaching and learning. Since then the school has migrated to MS Teams as the hub of Digital Learning.
He is passionate about harnessing the power of Digital Technology to streamline and improve administrative tasks that take up so much of the valuable time that school leaders have. He believes that the accumulation of time from these marginal improvements can create significant space for School Leadership.
Nora Blake
Post Primary Teacher, Galway Educate Together Secondary School
Nora is a Science and Mathematics teacher at Galway Educate Together Secondary School. She is an avid Gaeligeoir loves using technology to teach through a second language. Nora is a certified Apple Teacher and is passionate about using technology to support all learners.
Katie Ní Cheallacháin
Post Primary Teacher, Coláiste an Phiarsaigh
Katie is an Irish and History teacher in Coláiste an Phiarsaigh in Cork. She has worked in her own school to design the TY ePortfolio programme and has been a member of Wriggle's Digital Leader Programme. Katie believes technology is invaluable when it comes to creating teaching resources and supports.
Stephen Eustace
Teacher and Customer Success Manager, Microsoft
Stephen is a Mathematics and Accounting teacher, currently working with Microsoft Ireland as a Customer Success Manager. Passionate about the impactful and meaningful use of Edtech in the classroom, he loves to showcase practical examples of how to use Microsoft Education tools.
Karen Burke
Teacher and Customer Success Manager, Microsoft
Karen Burke is a MIE Master Trainer and specialises in the use the use of Office 365 as a platform for Teaching & Learning with a particular focus on Microsoft Teams & OneNote. Karen is an educator with more than 10 years' experience in UK and Ireland and has previously worked in one of Microsoft Showcase Schools.
Jamie Johnston
Teacher and Head of Educator Development, Wriggle Learning
Jamie is a primary school teacher who started his teaching career in Scotland and then the UAE. He played an integral part in Repton Abu Dhabi's adoption of technology in the classroom. Jamie has a passion for the impact technology can have on education and now works for Wriggle Learning as our Teacher Engagement Manager. Jamie is a certified Apple Professional Learning Specialist and Microsoft Innovative Educator.
Seán Glynn
Teacher and Chief Learning Officer, Wriggle Learning
Seán is a primary school teacher in Scoil Bhríde BNS, Dublin. He has an MSc in Learning and Technology from TCD as well as a Postgraduate Diploma in Educational Leadership & Management from Maynooth University. Seán is Chief Learning Officer for Wriggle Connect. He is also a certified Apple Professional Learning Specialist and Microsoft Expert Educator.
Beryl Furlong
Director, Wriggle Learning
Beryl is the director Wriggle Learning. She is a passionate advocate of the power of technology to enhance and transform teaching and learning. Beryl set up Wriggle Learning to support schools and colleges to successfully embed digital technology to transform the teaching and learning experience.
Mark McGinn
Leader of Teaching and Learning for 6th Year students, Borrisokane Community College
Mark teaches Construction Studies, Wood Technology, Graphics and Digital Skills. He is passionate about Digital Technology, innovative education and specialises in using Office 365 both on iPad and Windows devices. In 2020, Mark created the Microsoft Teams Office 365 pathway as part of the Wriggle Connect Project and his videos have been used to support colleagues both nationally and internationally over the past number of months.
Matthew Carr
Principal, Borrisokane Community College, Co. Tipperary
Matthew is Principal at Borrisokane Community College. As a former teacher of Engineering teacher he always had a strong interest in Technology and its use to promote teaching and learning. In Borrisokane Community College he has promoted the use of 1:1 devices initially at Junior Cycle and now moving to Senior Cycle.
Corey Hughes
Member of Microsoft DreamSpace Team
Corey Hughes was an ICT teacher in Youthreach before joining the Microsoft team as DreamSpace Learning Specialist. Corey has attained a professional diploma in computational thinking from UCD and is currently studying a higher diploma in software development. Corey is very passionate about providing students from all backgrounds the opportunity to explore and be excited by technology and what it can enable them to achieve in the future.
Niamh O'Malley
Member of Microsoft DreamSpace Team
Niamh O'Malley is a qualified primary school teacher and on completing a STEM Teacher Internship with Microsoft Ireland, she moved into the role of DreamSpace Learning Specialist. Niamh is currently studying for a masters in education leadership in DCU. Niamh delivers our STEM opportunities to young people across Ireland, through the medium of English and Irish. She is passionate about supporting teachers in taking the first steps to include these opportunities in their classrooms and the role DreamSpace can play in assisting this.
For registration assistance or enquiries contact
events@wrigglelearning.ie
. If you would like any assistance with digital learning in your school, contact
digilearn@wrigglelearning.ie
or Ph:
01 5009060.


For more information on Microsoft tools for education and support, contact
mseduirl@microsoft.com